Drilltec has recognized the industries desire for real-time information gathering and transparency. The recognition has been addressed with the use of iPads and custom software; Drillers and offsiders are now able to undertake their regular documentation of progress and update that information to the cloud. Items of paperwork that have been converted are that of vehicle pre-starts and safety checks, an hourly log of movements, bore details and inductions amongst a number of other checks and identifications. The creation of a CMS (Content Managment System) called the Drilltec Client portal, updates as soon as any information is entered by admin or drillers on site has been developed to enable easy access and understanding of anything relevant to the jobs proceedings.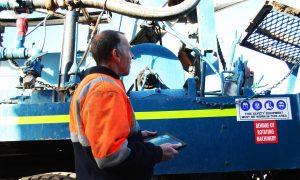 Drillers have embraced this new technological advancement and have been consistently providing educated feedback and suggestions as to how best maximize the use of the software in terms of efficiency and communication. The software itself was based on the existing paperwork that was required to be done but as it has progressed, much more functionality and value have been derived.
The outlined updates to systems and information handling have shown to benefit clients massively. The user experience for the drilltec client portal is easy to use and navigate, quick and easy to understand and extract information from and all while being massively informative.
Continual development and improvements to the Drilltec Client Portal have been made to ensure satisfaction of the back end use by drillers and the front end functionality for clients.